PDF Document Writer 7.2
The Rogosoft PDF Document Writer is a print-to-file driver that enables any Windows 8, Windows 7, Windows Vista, Windows XP, Windows 2000, Windows Server 2003, Windows Server 2008, Windows Server 2012 application to create Portable Document Format (PDF) files.


You can generate PDF files from any application by printing and selecting the Rogosoft PDF Document Writer as the printer.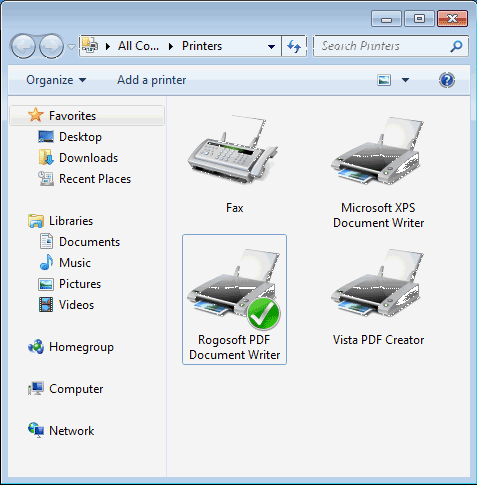 Unlike other PDF creation programs, Rogosoft PDF Document Writer provides Improved Color Printing, High-Fidelity Print Output, Improved End-User Experience, Improved Spooling and Rendering for Digital Publishing and Business Graphics. >>More Details<<
Adjust Laptop Brightness 2.0
Adjust Laptop Brightness is a small system-tray application to control the screen brightness of your laptop, notebook, netbook, or ultrabook. It helps you to save your battery and your eyes as well as the back light of your monitor.
The software supports Windows 8, Windows 7, Windows Vista, Windows XP, Windows 2003 Server, Windows Server 2008, and Windows Server 2012. >>More Details<<
XPS Removal Tool 3.0
Windows Vista introduces the XPS Document format and uses it as a document format, a Windows spool file format, and a page description language (PDL) for printers. The Microsoft XPS Document Writer (MXDW) printer is already in place. If you don't feel like to use this printer, you can uninstall it completely with the help of our XPS Removal Tool.
XPS Removal Tool is used to remove the Microsoft XPS Document Writer (MXDW) print queue and driver package from a Windows 8 or Windows 7 installation. XPS Removal Tool can also uninstall XPS Essentials Pack from Windows XP, Windows Server 2003, Windows Server 2008, and Windows Server 2012. >>More Details<<